Announcing the nominees for SGA´17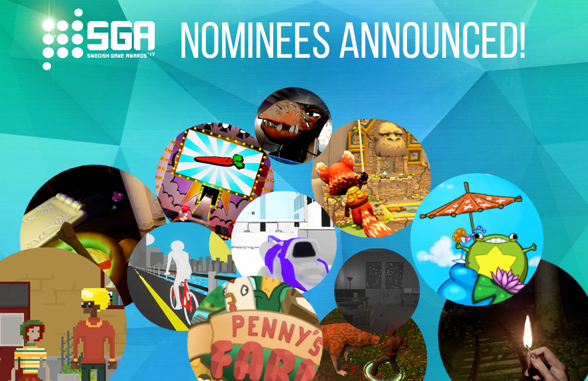 The jury for SGA´17 has been busy all weekend playing some of the best games produced by the students of Sweden. Now, we are happy to share the nominees for SGA´17!
All nominees are listed below. Alternatively if you are a visual learner, you may view the nominees on our Games page.

Game of the Year nominees:
Rope's adventure
Pump the Frog
Penny's farm

Best effort in Diversity nominees:
Lost in Kramédor
Softa med oss

Best execution in Design nominees:
Rope's adventure
End Time
Botson & FindOS
Temple Tale

Best execution in Art nominees:
Pump the Frog
Rope's adventure
Pick your potion
Contemp

Best execution in Narrative nominees:
Eyes align
Development Hell
LIVET.exe

Best Technical execution nominees:
End Time
Pump the frog
Rope's adventure
Pick your Potion

Best execution in Sound nominees:
Pick your potion
Unforgiving: A Northern Tale
Knock it off

All nominees are invited to exhibit their game at the SGA expo which is on Gotland on the 3rd of June. Come to the expo to play the nominated games! During the evening of the expo, the winners are announced at the SGA´17 GALA.